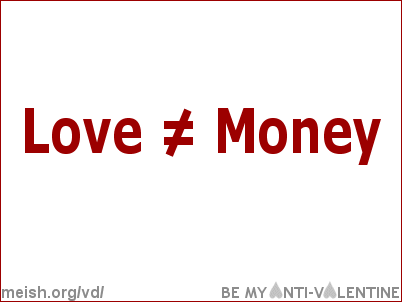 Dia dos namorados nos EUA é agora em fevereiro (dia 14) e um site se destaca nesses momentos tão doces. É o Be My Anti Valentine.
Nele você pode encontrar diversas sugestões de cartões e até enviar os seus cartões aos seus "(un)signifcant other" Tem uns ótimos como o que ilustra esse post.
A pergunta no FAQ que explica da melhor forma a idéia por trás do site é a seguinte:
Do you REALLY hate love?

No, you're missing the point. I'm not anti-love or anti-romance or anti-relationships. I'm against hollow gestures prescribed by people who are out to make money out of the holiday.
É como uma versão de cartões do T-shirt Hell. Ácido e irônico ao extremo. Será que um desses aqui no Brasil vinga? Na dúvida, aqui vai mais um cartão especial: